Many visa applications are rejected by the UK government. There are a number of reasons why the visa application is rejected, one of them is when the paperwork is not complete or you fail to make strong and valid points that show why you should get a visa to the UK.
The applicant can make an appeal against the visa refusal to the UK embassy. Visa refusal appeal can be made under a few visa categories that are spouse visa, sole representative visa. Appeals may help to overturn the original decision of refusal.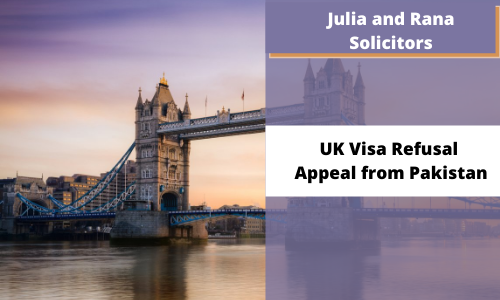 People of Pakistan can also make an appeal against the refusal visa. You can take the help of the experts that will help you make an appeal against the visa refusal.
Julia and Rana Pakistan will help you and guide you in the appeal application regarding visa refusal and their experts will make sure that you get the visa to the UK approved. You can appeal for the following visas.
Spouse Visa Appeal Against Refusal
An appeal against the visa refusal can be filed by the applicant to the First-tier Tribunal UK. If the applicant is in the UK and an application was filed within the UK then the spouse visa appeal application against the rejection must be filed within the 14 days of getting the refusal letter and in case the applicant is out of the UK then he has 28 days for appeal.
You can appeal online by filling a form online and a fee of £140 should be paid. After the fee is paid the process starts and the case is discussed with the appellant and the Home Office. This process can take months for the decision to change.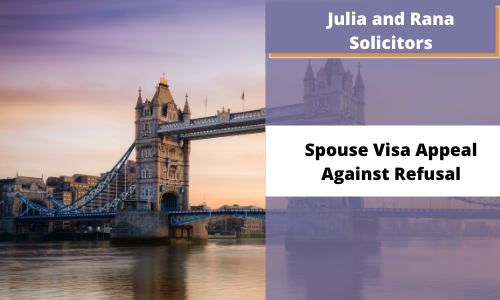 Sole Representative Visa Appeal Against Refusal
Only a sole representative is allowed to make an appeal against visa refusal in the business category. The applicant must provide a strong argument and also complete the documentation if it was missing in the first place. The applicant in the UK has 14 days and an applicant outside the UK has 28 days to make an appeal.
EEA Family Permit Appeal Against the refusal
Those who have a residence in the UK are under the EU Settlement Scheme, can sponsor their close family members and extended family members. If the application is refused then they have the right to appeal against the refusal. If the application was made outside the UK then the deadline is 28 days and the appeal process is the same as the spouse visa appeal.