People from Pakistan want to get UK visit visa for a number of reasons. It has a vast history and beautiful tourist sites that attract people from all around to the UK. Many people have family members settled there as well so they might want to go to the UK to meet their relatives.
To visit the UK you need a visa. There are many categories under which you can get your UK visit visa from Pakistan.
UK General Visit Visa for the Tourism from Pakistan
The British High Commission in Pakistan receives a great number of applicants for the UK Visit Visa from Pakistan people. The applicants are advised by the lawyers to apply under this visa rather than the family visit visa category if they are going with the intention of tourism. The most important things that the applicant must do are:
Don't take any employment in the UK
Without using the public funds they maintain and accommodate themselves
Leave within 6 months
Give actual reason of visiting to the UK
Do not provide any services or start any work there.
Don't get married there
You should be at least 18 years and above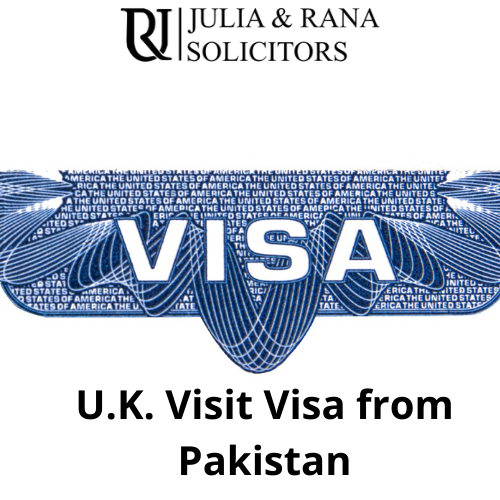 You can apply for your UK visit visa from Pakistan for 2 and up to 10 years. Your application and situation help to determine your fees for the visa.
How can we help?
Our team of Julia and Rana Solicitors are reliable and trustworthy. We make sure to give you the best services and help you in all the process that is related to the visa. Firstly we will advise you regarding all the processes and give you guidance that will help you apply for the visa to the UK. We will also help you with all the required documentation work, we will help you with the filling of applications without any error. We will make sure that all your documents are complete and help you get the draft letter of support, and covering letter.
We are fully equipped to help you, advise you and support you regarding the visa process of the UK.
UK Family Visit Visa from Pakistan
This visa allows the people of Pakistan to visit their friends and family settled in the UK. they need to apply for the visa to the UK and get to meet their relatives there. There are requirements that you need to fulfil for your family visit visa to the UK.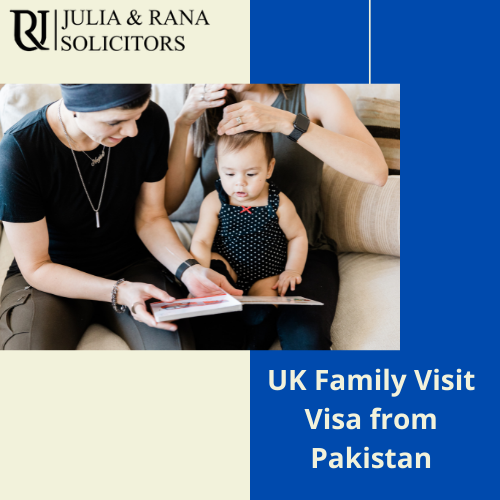 Parents want to meet their children and grandchildren present in the UK.
Requirements for family visit visa
You plan to visit only for 6 months
You plan to meet the family residing in the UK
You will leave UK
You need to prove you have enough funds to support yourself
Your relatives need to show they can support you
You can apply for the time duration of your UK vist visa from Pakistan for 6 months, 2 years, 5 years as well as for 10 years.
The documents for this visa should be provided by both parties. So you need to have proper contact with the family residing in the UK so that they can provide you with all the important documents required from their side so that your visa process can be carried out.
Julia and Rana Solicitors will help you, guide you and support you regarding the visa process. They will help you fill the application. They will also make sure that the required documents are completed and provided. They will make sure that you get your visa to the UK.